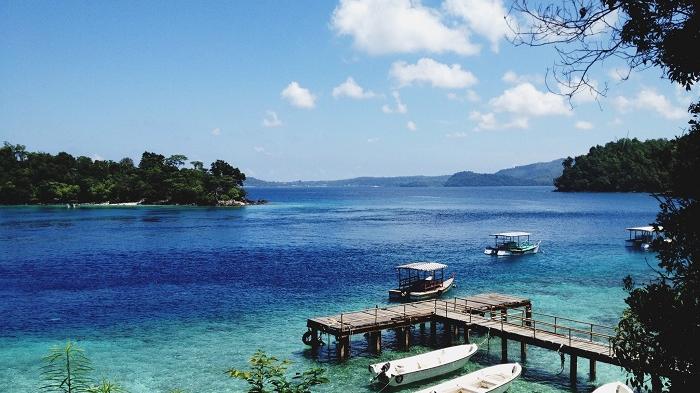 Pulau Weh
If you are ready for a real island's life experience, Weh Island is the answer. Weh Island, locally called Pulo Weh, is located on the north of Banda Aceh, which is on the western tip of Indonesia Archipelago- the kilometer zero. Sabang is the main town on the north coast of the island; locals sometimes refer Weh Island as Sabang. The island was part of the International Trade crowd runway because it's strategic location at the intersection of Indian Ocean and Pacific Ocean. However, the island is quiet and mellow with coffee stalls filled with locals instead of souvenir shops.
Weh is the melting pot for people from various tribes and ethnicities in Indonesia, such as Sundanese, East Javanese, Acehnese, West Sumatranese, and Chinese. The origins are very welcome and maintain social relationship with the multiethnic that domicile in Sabang. Despite the cultural influence from the 'pendatang', the original people of Weh strongly uphold their original culture for example the wedding ceremony still follows the traditional code of conducts. They also have a unique one-week festival called Kenduri Laot where in the week of the festival, all the fishermen are not allowed to go fishing. There are some festivals which inherit from generation to generation and still conducted till now, such as Kenduri Maulid, Kenduri Atot – festival for the death, and many more.
The tsunami in 2004 shook the island a little but the life on the island had quickly recovered. The natural hazard happened years ago is not stopping many traveller and tourist to visit Pulau Weh to enjoy the beaches and diving the Pulau Weh crystal clear water where variety of coral reefs host plethora of fishes that living in harmony with other marine life. The island has around 20 dive sites where you can encounter macro life, rare critters like Frog Fish, Star Gazers and Gurnards, and the large pelagic like Mantas, Whale Sharks and Mola Mola also come to feed when the season is right. The bottom topography ranges from large boulders on sandy slopes and deep volcanic pinnacles to craggy wall sections and coral gardens. Pulau Weh offers some of the finest diving in Indonesia and the offer is for every level of experience.